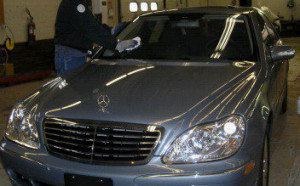 Dave's Glass has been a leading choice in automotive glass since it's inception over 38 year old ago.  We only use premium quality glass and parts.  Our installer is NAGS certified and has over 40 years of experience.  We pride ourselves with the ability to make the process of having your windshield replacement as smooth as possible.  Our staff has a combined 90 plus years of experience in the glass business.  So we have the ability to make it right the 1st time.
Proper autoglass installations ensure the safety of the passengers and we take that responsibility to heart.  Too often installers are pushed to fit a certain number of jobs into a day, which can lead to shortcuts in the installation process.  We would rather schedule extra time for you and for our installer to make sure the job is done properly.  This involves the removal of existing glass, preparation of surfaces for new glass, as well as using products we feel are at an OE level of quality.
We work with all insurance companies and all insurance networks and can assist you in setting up your claim to make the process as simple as possible for you.  Additionally if insurance coverage is not applicable, we will do our best to offer the most competitive and fair price we can to our customers.  Feel free to contact us via the form at the right for quotes and questions.